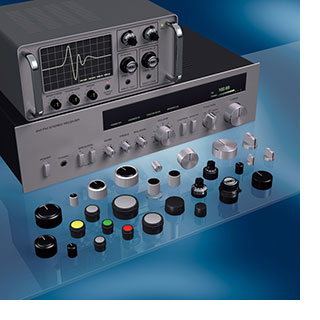 A knob is a knob, some may say. But whatever the wizardry under the hood, stylish, high quality knobs can transform perceptions of an electronic product from simply "functional" to "best in class".
Multitron, the exclusive UK & ROI agent for the substantial German component manufacturer MENTOR, has announced the availability of a range of plastic and aluminium control knobs, offering aesthetic and ergonomic solutions for every application, from digital and analogue turning knobs to wing knobs, pointing knobs, instrument knobs, toggle knobs, potentiometer knobs, dual concentric shaft knobs and high-precision turning knobs.
MENTOR is a 500-strong manufacturer with a near 100-year legacy and a legendary reputation for reliability and excellence. Today they are well-known as a leading manufacturer of light guides and LED optics, yet they still remain one of the world's largest manufacturers of knobs and handles, often combining their multi-disciplined and leading-edge competencies to produce innovative solutions. The image below graphically demonstrates an example of this, showing their custom solution for an RGB LED/light guide-based control knob fitted to a top-of-the-range guitar.
You have to see (and feel!) to believe so ask Multitron for samples in order to see how they can add that critical finishing touch to your own new design that will differentiate it from the norm!